Let it flow!
-
Adres
Hotel De Wageningse Berg
Generaal Foulkesweg 96
Wageningen
Netherlands
Afbeelding
Image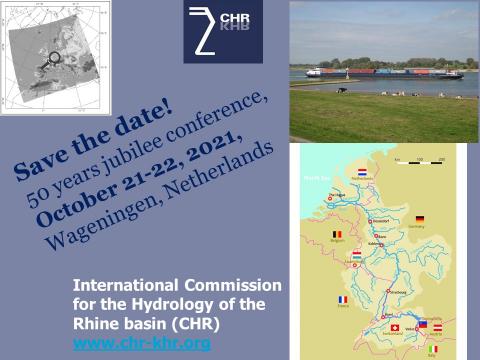 We are looking forward to meet each other in the Netherlands on 21 and 22 October 2021 during our jubilee event (now 51 years!).
 
We will look back together with you on more than 50 years of hydrological research in the Rhine basin, and certainly also will look into the hydrological future.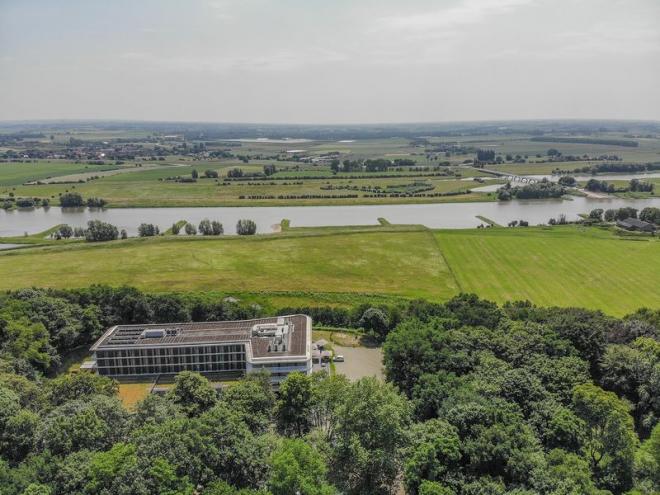 The International Commission for the Hydrology of the Rhine basin will celebrate its 51th anniversary on October 21-22, 2021 in Wageningen, The Netherlands.
This is a good opportunity to look back on our succesful international scientific cooperation on hydrology and flows of the Rhine River and to discuss future challenges.
The CHR, as an independent foundation with representatives from hydrological institutes of all members states, addresses diverse themes and carries out projects together with scientific organisations. Our focus is always to deliver a corporate knowledge base for all countries and to solve common questions in the catchment and sub-catchments.
 
Program
Program 50 Year Jubilee Symposium CHR
Wageningen, 21 and 22 October 2021
Day 1 (21st October)

09:00

Opening and welcome - Helmut Habersack, president of CHR

09:10

Welcome by Jaap Slootmaker, Director General for Water and Soil at the Dutch Ministry of Infrastructure and Water Management

09:20

Welcome by Peter Glas, Delta Commissioner for the Netherlands

09:50

50 years of CHR History and Lessons Learnt - Manfred Spreafico, former president of CHR

10:15

Coffee Break

10:45

Key notes about what are the most important hydrological themes for international organizations, by representatives from UNESCO, WMO, ICPR and CCNR.

11:45

Signing sessions of agreements for cooperation between the CHR and ICPR, UNESCO, WMO and CCNR

12:00

Signing session of agreements for cooperation between the Rhine member states

13:00

Introduction of CHR stategy and presentation of the jubilee book (Let it Flow!) - Helmut Habersack, president of CHR

13:15

Lunch

14:15 – 17:00

Bus excursion

19:00

Jubilee dinner
Day 2 (22nd October)

09:00

Setting the scene from a hydrological scientific view point - Bart van den Hurk, Deltares

 
 

Presentations of past and ongoing CHR projects:

09:30

Overview of CHR projects from the past (e.g. Declaration of Nijmegen and RheinBlick 2050) - Wolfgang Grabs, former CHR representative for Germany

09:45

Changes in the discharge regime of the Rhine - Jörg Uwe Belz, Federal Institute of Hydrology, Germany

10:00

The snow and glacier melt project (ASG) in the framework of a changing climate - Kerstin Stahl, University of Freiburg

10:15

Socio economic changes and their impact to the discharge regime - Judith ter Maat, Deltares

10:30

'From the Source to the Mouth'. The sediment balance of the Rhine in the period 1901 - 2010 - Roy Frings, Rijkswaterstaat

10:45

Sediment management in the Rhine catchment: Inventory of knowledge, research and monitoring and an advice on future sediment research - Mario Klösch, University of National Resources and Life Sciences, Vienna

11:00

Coffee break

11:15

Strategy and working program of the CHR - Helmut Habersack, president of CHR

11:45

Project Youth for the Rhine - Luke Somerwill, Unesco IHE

12:15

Wrap-up and closure - Helmut Habersack, president of CHR

12:30

End of symposium

12:30 – 14:00

Lunch and travel back